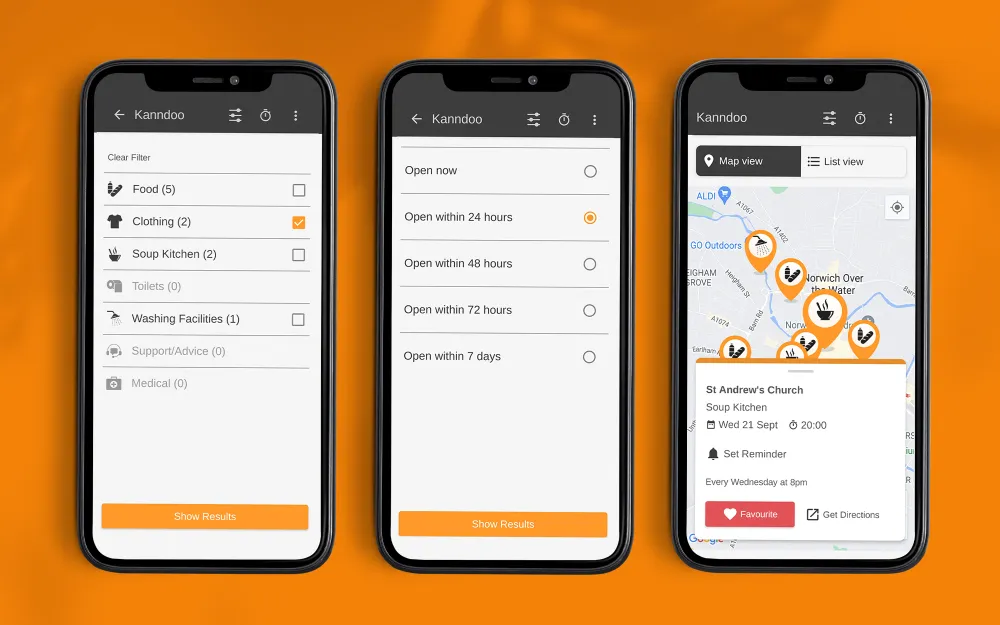 Excitement is brewing at Kanndoo HQ as we approach the launch of our flagship app. We're just ironing out the final few kinks, and then we'll be uploading to the Google Play Store and making the app available to anyone who wants to download it to their Android phone.
What does the app do?
We recognised that there are lots of charities and organisations offering services to homeless people. People in the homeless community told us they mostly hear about these services by word of mouth. Food, clothes, temporary shelter, washing facilities, even free haircuts or legal advice might be available, but only if you know to be in the right place at the right time. We thought it might be useful if an app could show people everything that was available within a 5 mile radius of their location.
Who's it for?
Our primary audience is homeless people in Norfolk. We want them to download the app and use it to locate and access the help and support that's nearby. We'd also be delighted if a secondary audience of people who engage with Norfolk's homeless community downloaded the app to help spread the word.
Why just Norfolk?
For our immediate soft launch - we're building a database for Norwich and Great Yarmouth. Once we've proved it works at this scale, we plan to apply for funding to extend the service to the whole UK in the future,
How much will it cost?
The app is free to download. We want as few barriers to access as possible. So the Kanndoo app will always be available for free.
Is it available for the iPhone?
We have not made an Apple version of the app yet. Our research suggests that cheaper Android phones are far more ubiquitous in the community we are serving so we have concentrated our efforts on getting an Android app up and running.
When will the app be available for download?
Imminently! Watch this space and our social media accounts.